On 10th of December, 2020
at the Auditorium of the Postgraduate Institute of Humanities and Social Sciences (PGIHS), Faculty of Arts, University of Peradeniya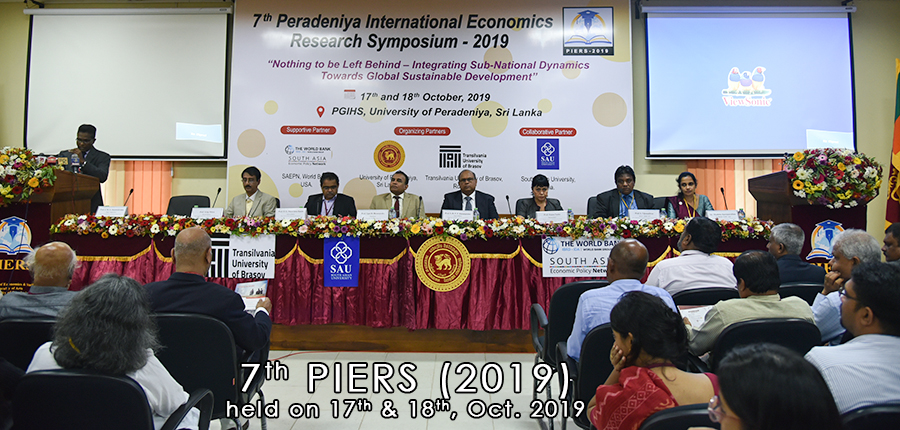 The Peradeniya International Economics Research Symposium (PIERS) is organized annually by the Department of Economics and Statistics at the University of Peradeniya since 2013 with the participation of foreign and local academics researchers and policy makers.
The 8th symposium, PIERS - 2020 is jointly organized by the Department of Economics & Statistics, Faculty of Arts, University of Peradeniya, Sri Lanka and South Asian University (SAU), New Delhi, India. The symposium is open to researchers from economics, development and other related disciplines, enable them to present their research works to a wider audience and to engage in an intellectual discussion with peers, academics and other researchers.
This year Conference theme is "Stimulating economic growth to face economic and social challenges during and post Covid 19".
Through PIERS 2020, we aim to provide a platform for economic research which would contribute the above theme. Also considering the prevailing pandemic situation Covid 19, Corona virus the organizing body has decided to move it as a semi-webinar conference with online focusing particularly for overseas participants. Hopefully this will enable us to have a wider participation for this event especially with overseas collaborators and researchers cost effectively.
The symposium particularly provides opportunities to young economists and scholars engage themselves in vibrant intellectual discussions. This will also be an interactive forum for junior academics and researchers as well as undergraduate and postgraduate students to engage in dialogue and expose themselves to high quality research in economics with senior academics and policy makers from locally and internationally. All extended abstracts presented and the keynote speech delivered in the PIERS are published as Symposium Proceedings. Past Symposium Proceedings are available in the Department and the extended abstracts and keynote address can be downloaded from here.
We believe that this year event will able to incorporate creative criticism and suggestions from researchers participating in a dual mode system (face-to-face and online) as a new experience expecting that it will be a more productive symposium. Besides the formal events the Symposium will also provide an excellent opportunity for participants to develop network with present/past and local/international economists.