The Kolam Dance Drama Tradition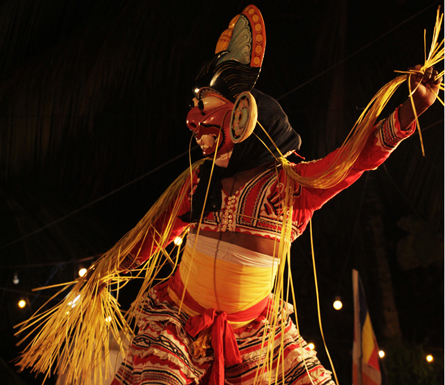 According to written records, the kolamdrama is two centuries old, but still occasionally prevalent in some villages in Sri Lanka. It is challenging to trace the roots of a folk drama which is very old; however, with reference to written records, and kolamdramas performed today, this intends to provide a comprehensive account of the kolamdance drama in Sri Lanka.
Kolam:Meanings of the Word
There are many meanings to the world kolam,even though it is used to name a folk drama. Accordingly, at present, meanings such as being over-realistic, and inappropriate are used. The word kolamis used in utterances such as "mala kolamak"(nuts!), "kolam karanna epaa"(don't be funny), "enawada methana kolam natanna"(what do you think you are doing).

In the past, the term was used to denote an act performed by wearing masks. For example, the Loweda Sangarawaby Vidagama Maithri Therostates that, "paala giya weni bahu ru kolam."The word is also used for masks, and according to tradition, making a mask was known as "kolam kapanawa". Kolam kuttama is used for a collection of kolammasks or a group of kolamdance drama performers.

kolamis also used to express a decoration done by Tamils using rice flour. In Telengu language, kolammeans dance. In Kannada, the word kolam is used for make-up.

However, the word used for a dance performed by wearing masks is called the kolamdance. This includes a string of events or a story enacted using dialogues, dance, gestures and song according to the beats of the drum.


Scholarly Perspectives on Kolam
Many scholars have expressed their views on the form and content of the
kolam
dance drama. According to Daala Bandara, there are many ritualistic features in the
kolam
drama. He cites the role of demons in order to prove this. He further states that, the role of demons is particularly used for ritualistic purposes, rather than a source of humour. Verses such as
"Ropana kala dosa athoth, Apa raka dee seth denna"
evidence this. Sometimes, the leader of the group is also called
"adura".
M.D. Raghavan, an anthropologist, states that there is a relationship between
kolam
and the caste of Karawa. Daala Bandara further asserts this by stating that the
Karawa
caste is generally engaged in ritualistic activities, thus
kolam
is a ritualistic performance. He further states that there is a ritual performed in South India for mothers who are seven months pregnant in order to protects the fetus from evil influences. Perhaps, his conceptualization of the
kolam
drama is influenced by P. Bertolt, who also states that it is performed to protect the fetus from evil influences. However, since there is a
thovil
ceremony called
rata yakuma (riddi yagaya)
which serves such purposes, and it is doubtful whether
kolam
was intended for purposes such as protecting the fetus.
Prof. Ediriweera Sarachchandra makes the claim that kolam is a combination of acts performed in the low-country
yak thovil.
For example, characters such as
Rathnakuta, Rathnagiri, Nandagiri, Neelagiri, Giridevi, Dalaraja
are identical to both
garayakuma
and
kolam.
Further,
Maru Raksha
is a character which appears in both
kolam
and
Dahaata sanniya.
However, Daala Bandara dismisses this, stating that there is no identical relationship between the Giridevi in
Gara Yakuma
and
Kolam.
He states that
kolam
is influenced by the character of
Mohini.
Thus, according to Daala Bandara and Bertolt, the
kolam
drama has ritualistic purposes. However, Sarachchandra does not make this assumption. Even though there are ritualistic elements in the
kolam
drama, it is not a completely ritualistic practice. Perhaps making offerings to god, reciting blessings and playing
pinbera
could insinuate the ritualistic features, but these are common to all other ceremonies.
Prof. Tissa Kariyawasam states that the
kolam
dance drama is an offering for goddess
Pattini.
He cites a
kolam
performance which he has witnessed in 1966 in Mirissa. He futher states that
kolam
is similar to village rituals such as
Suniyam, Kankari, Weddiya, Saththuwa and Samayam.
However, this claim is doubtful since there are already ceremonies for goddess
Pattini
in
Mirissa.
One such ceremony is the
Porapol Keliya.
Towards the end of the
Porapol keliya,
there is a
Gammaduwa
and a
kolam
dance. This
kolam
does not bear any resemblance to the
Porapol keliya,
which is exclusively offered for goddess
Pattini.
Origin of the KolamDance Drama
The exact date of its beginning is uncertain; however, according to written records, the
kolam
drama dates back to the 15th century. However, this only an assumption given in the scholarly literature on kolam. The story of the genesis of
kolam
is as follows;
"In the past there was a king called Raja Maha-Sammatha. His queen was pregnant and she was craving for a performance by a group wearing masks. Even though, the royal dancing troupes delivered performances, the queen was not satisfied. Even performances from different countries were of no avail. Hence, the queen and the king were disappointed. God
Indra
(or
Shakra
according to some sources), invoked the god of creation and demanded that queen's cravings were satisfied. The god of creation created a mask and a book with instructions and hid those in the royal garden. The gardener revealed the information the following day. Hence the king ordered the royal performers to wear the masks and perform. Queen's craving was thus satisfied."
The Kolam Groups
The performing crew of
kolam
is commonly known as
kuttama.
The word
kolam kuttama
is used to call the collection of masks used in the performance. Maha Ambalangoda Tukkawaduge Harischandra is a group which performs at present. The leader of the group is Tukkawaduge Gunadasa. Ambalangoda Hirewatta Juan Wadu Ariyapala is another group. The current owner of the group is Manushika Wijesuriya. Mirissa Udupila group was led by Martin Amarasinghe. At present, it is managed by S.P. Edwin. Mirissa South Batugoda group is managed by Richard Weeraratne. Horana Olaboduwa group is managed by O.N.S. Fernando. Hokandara Thomas Aladdin's group is managed by him. There is also a group managed by Daniel Aduruthilaka. Further, there is a group managed by M.K. Justin in Pelawatte. Miriswatte Raigama Robiyas Udawatte and the group has recently performed a
kolam
drama.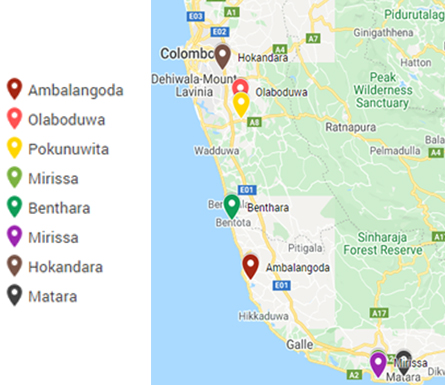 Areas Popular for Kolam
The birthplace of
kolam
is the southern maritime area. It is fair to assume that the places where kolam masks were crafted were also the places where it was originated. At present, there are skilled artists who make masks, paint, practice drama, play drums, and dance. The drama was mainly popular in the maritime areas from Panadura to Tangalle, and suburbs in the interior of the country. Ambalangoda, Benthara, Mirissa, Matara, Rayigam korale olaboduwa, Hokandara, and Siyane Koralaye Gampaha were such areas. This is mainly because Kolam drama is linked with the low country dance tradition. However, there are some places such as Mirissa udupila, Ambalangoda, olaboduwa, Pokunuwita, Kurudippita where Kolam dance is practiced at present.
The Content and performance
The
kolam
performance has three main components; preparation, main act and the conclusion. For preparation, villagers get together and allocate a date, set up the
kolam maduwa,
and prepares the arena for the act. The main act is divided into two parts; pre-performance and post-performance. The pre performance sets the context for the act symbolizing the king and queen arriving to watch the play. Before the queen arrives, a performative act is used to prepare the place (
anabera kolama, mudali kolama, jasa kolama
are examples). After the queen and king arrive, the act takes a hyper-realistic tone and depicts characters such as gods, demons and other spirits. The post-performance enacts a story. The act is particularly long, and uses Buddha's life stories and historical stories. Stories such as
Sandakinduru, Maname, Gotaimbara
are popular among those. There is a uniform order for the performance of
kolam
dance drama even though there can be slight differences.
The arrival of the Chief (Sabhapathi)
Police kolama
Arachchi kolama
Anaberaand Nonchi kolama
Hewa kolama
Jasa kolama(Lenchinaand Puransinaarrive here)
Mudali kolama(Appu, Henchappuand Liyanappuarrive)
Queen and King arrive
Sinhaand Walaskolama
Surabawalliya Kolama
Naga Kanya Kolama
Naga Raksha Kolama
Narilatha Kolama
Giridevi Kolama
Purnaka, Maru, Rathnakuta Raksha
Marakkala/Demala Kolama
Karapita Kolama
The main act
Gara nateema
Invoking merits to god and playing drums
Then arrives the final section of the act, which is more ritualistic. The Kolam is concluded by boiling milk and making offering to goddess
Pattini,
the following day.
The main act has so far used the following stories;
Maname
Gotaimbara
Gonkoti
Gama
Dharmapala
Andhabhootha
Bimbisaara
Sandakinduru
Chathrapani
Welanda Upatha
Chulla padama
Swarnathilaka
Mathalan
The manuscripts of many of the stories above cannot be located. Among the above, the most popular are
Maname
and
Sandakinduru
which can be seen in
kolam
performances at present.
The Kolam Theatre
The Kolam theatre is known as
Karaliya
or
thanayam pola.
Some kolam verses also use the term
Sabaya,
which is a place where people are assembled. However, the common usage is
Kolam Rangamadala.
Therefore, all terms such as
Thanayampola, sabhawa, sabaya, karaliya, kolam pola, kolam maduwa, ranga bhoomi
denote the place were
kolam dance
is enacted.
The theatre is circular in shape. Usually, a public space or a garden of a village elite is used for this occasion. However, it is mandatory that the space is outdoor. There is no evidence that traditional
kolam
dance has ever performed indoors. If one performs sections of the
kolam
dance, those are performed indoors. In the center, towards the back of the circular space is the main prop, which is also known as the
wes aththa.
It is made of
Gorok, Burulla
or Arecanut leaves, and is of 7 meters in height. There is a hut built behind the
wes atta,
known as
andum ge.
This hut is used to keep the clothes of performers, get dressed for the act and to rest. Most performers wear their masks inside this hut. But some wear it behind the
wes atta.
There are instances when over-realistic characters such as demons jump on the
wes atta
to enter the theatre.
On the left is a structure called
"yahana".
It consists of 04 parts. This is built for the 04 main gods
(sathara waram deviyan).
There is no common understanding of the four gods. According to some sources,
Natha, Vishnu, Katharagama, and Paththini
are the four gods. According to Buddhist literature, they are
Dutharadha, Virupa, Virupaksha
and
Vaishwana.
Close to the
"yahana"
is another structure made of coconut leaves known as
"pahan pala".
It is a circular weaving and used to light a lamp for the
Gambhara/Sooniyam
god.
The space where the act is performed is separated using weaved coconut leaves. Around the space are trunks of banana trees and 08 structures of
punkalas
( pots of prosperity). There are also lamps made of coconuts placed on the surface of these structures. The arena is traditionally lightened by this. Kitson lamps, kerosene lamps and Petrol max lamps have been come in to use over time. At present light bulbs and sound systems are also used.
The performers enter the arena from either side of the
wes atta.
Once the act is over, they go back to the
andum ge.
The audience sits on the floor to watch the act , and it is always played overnight.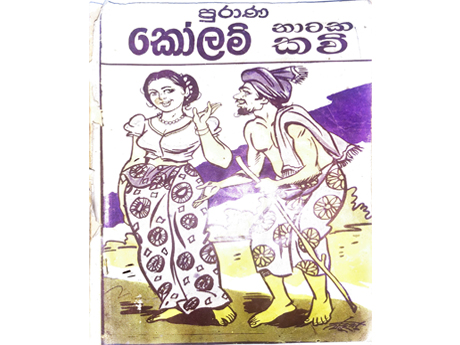 Click here to Download Purana Kolam Nataka Poetry Book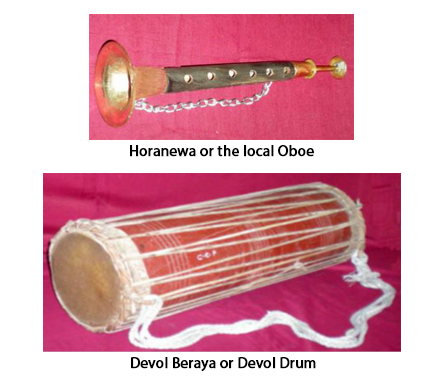 The Kolam Music
The
kolam
music consists of singing and playing instruments. The low country drum or
devol beraya
is mainly used here. Further,
thaalam pota
and
horanewa
are also used. The dancers wear
rahu kuttam
and
silambu kuttam;
even though these generate sound, these are not considered musical instruments. However, the combination of all of the above generates beautiful music.
The low country drum is used to play verses/rhythms associated with low country dance. There are verses associated with each character in a
kolam
drama. Verses such as
ashirwada
and
dewaradana
are sung before the commencement of the
kolam
drama. Further, the
magul berais
played before the commencement and
pinbera
after performance. The
horanewa
(Sri Lankan equivalent of Oboe) occupies an important place in Kolam drama.
The singing has its own characteristics. Some melodies cannot be found in other common verses. For example,
Jasa, Lenchina, Surabawalliya
and
Sandakinduru
are very unique. However, the Kolam singing is seemingly influenced by the
nadagam
and
kapirinna
singing styles.
Kolam Masks
There is an inextricable link between
kolam
drama and masks. Masks are used in Sinhala
thovil
ceremonies too; however, those used in
kolam
drama have their own distinctive features. Except the Chief
(sabhapathi, sabe vidane, kariya karawana raala)
every other character wears a mask. The masks are attractive and artistic. These are created according to standards and painted to highlight the features of a particular character. The masks used in
kolam
drama can be divided into three categories;
Masks which represent human beings: King, Queen, Hewa, Jasa, Lenchina, Suransina, Arachchi, Mudali, Chencha, Liyanappu
Over-realistic masks: Narilatha, sandakinduru, gurulu, surabawalliya, giridevi, Raksha
Animal masks : Lion, tiger, fox, dog, eagle
The making of masks is a complex process. The process is included in three texts written in Sanskrit;
Shariputraya, Rupawaliya, Maimathaya.
The making of a
kolam
mask has the following steps;
Cutting the tree and processing the timber,
Flattening,
Removing unnecessary sections,
Smoking,
Cutting shapes,
Crafting shapes,
Painting.
Trees such as
Walkaduru
and
Rukattana
are used for making masks. At present,
Erabadu
and
Kapupulun
trees are also used. The techniques of painting are part of the traditional knowledge system. Usually, these colors are obtained from raw materials in their own environment. Red and brown from stones, yellow from kirigal, white from
makulu mati,
purple from
bovitiya
and
ranawara
flower, green from
diyalabu, ladappa, madatiya, kohomba,
and black from burnt coconut shells are obtained. The painting is done meticulously. King, queen and other elite characters are painted in orange, pale red, yellow and white. The villagers are painted in brown, grey, green and yellow. For over-realistic characters, red, black, brown and pale pink are used. At present, the making of masks is done in two days, and are painted using artificial colors.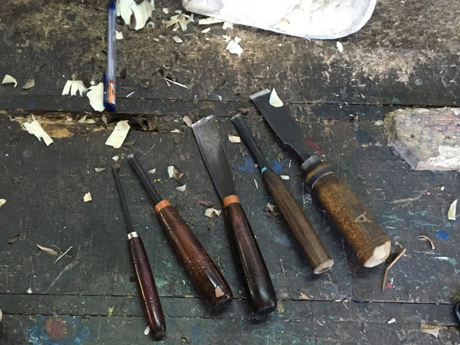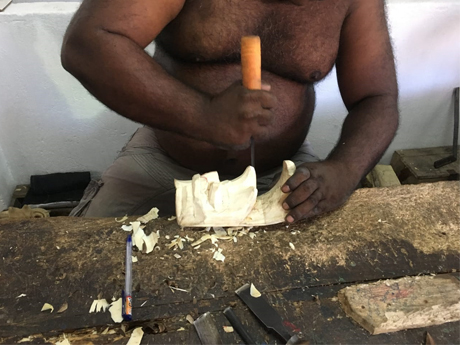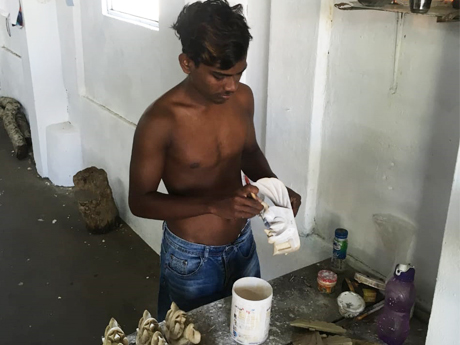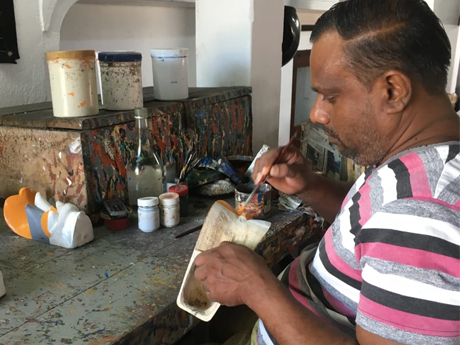 Kolam Drama at Present
At present, it is very rare traditional Kolam dances are performed. Occasionally, sections of
kolam
drama is performed. The masks and acts have been appropriated to contemporary times. Sometimes, these are devoid of traditional rhythms, verses or drum beats. Further, there are no incentives for new performers to carry this legacy forward. Increasingly, women have also been taking part in performances, which was once considered a privilege of men. Traditional ritual dances have also appropriated the
kolam
tradition recently. The masks are, at present, mainly used for commercial purposes. There is no mechanism to preserve these masks or other traditions related to kolam today. Some kolam groups have made individual efforts to preserve this legacy; There are some museums by Ariyapala and Tukkawadu groups in Ambalangoda. However, the Mirissa (udupila) group is on the verge of declining.